electric motors, motors, pumps, gears, inverters, inverter, soft starters, high voltage motors, special motors, brake motors, slip ring motors, liquid starters, medium voltage motors, direct current motors, squirrel cage motors, slip-ring motors, low voltage motors, flange-mounting motors, frequency converters, frequency changers, motor bases, pulleys, bearings

» News » 280LL frame motors from stock
280LL frame motors from stock

News
280LL frame motors from stock.
Proud to announce that super compact frame motors 280LL are now included in our stock.
We have expanded our stock with the following motors:
160kW/2p/B3/280LL
160kW/4p/B3/280LL
132kW/6p/B3/280LL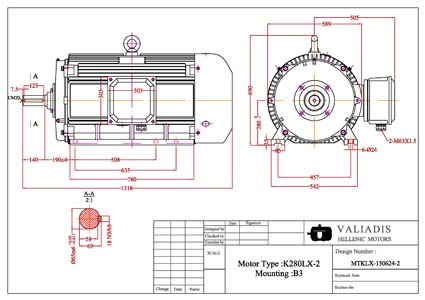 Basic Characteristics: 400V-440V/50Hz-60Hz/IP55/Class F/ Terminal box right side/SKF bearings/ PTC Thermistors
Modifications posibilities: flange mounted/IP56/IP65/Terminal box at left side/ special shaft/special winding
Please do not hesitate to consult us at valiadis@valiadis.gr.